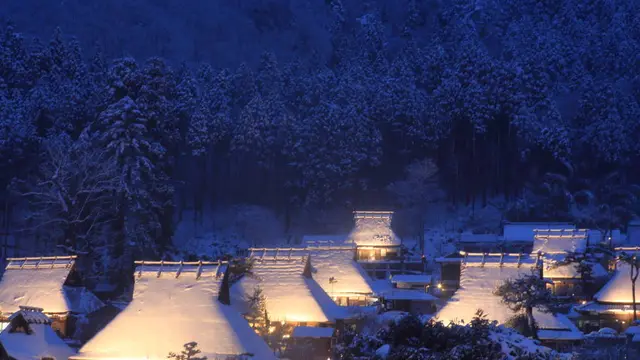 2019 Kyoto Miyama Snow Lantern Festival
京都
デート

子供

一人旅

ドライブ

ウォーキング

自然

散策

歴史

寺・神社

建築

体験

小旅行

観光
2019 Kyoto Miyama Snow Lantern Festival
An annual snow lantern festival at the Thatched Village in 2019 is from 1/26 (Sat.) to 2/2 (Sat.). Handmade snow lanterns and flower lanterns as well as illuminations of thatched houses produce fantastic and nostalgic scenery of the village covered by white snow. Fireworks on 1/26 and 2/2. A:Thatched Village - during daylight B:Miyama Folklore Mesuem C:Chii Hachiman Shrine D:Thatched Village Illumination E:Fireworks http://www.yukitouro.jp/
An annual winter festival "Snow Lantern Festival"! The entire village is covered by snow creating nostalgic black and white landscape.

Snow Lantern Festival Now!

The sign showing "Thatched Village Snow Lantern Festival".

Let's make snow lanterns!

Make your own snow lantern! Your lanterns will be lit by candles to illuminate the village.

Take a photo!

Being photographed with your original lanterns.

Food stalls

Octopus dumpling, noodles, deep fried venison meat with potatoes, coffee, sweets and other local specialties. Warm up by foods and drinks!

Stroll around the village before evening. Visit "Miyama Folklore Museum" and learn about living culture of traditional rural Japan. Open: 10:00-16:00 (Dec. - Mar.) 9:00 - 17:00 (Apr. - Nov.) Entrance Fee: JPY300

Inside of thatched roof!

In the Folklore Museum, go up to the attic to see the inside of the thatched roof!

Learn about lifestyle of rural old Japan

Not only thatched roof! Shoes, apparels and most of livingware had been made by straws in old days.. Local herbal tea is served, too. Relax to have a cup of tea and enjoy conversation with locals.

Chii Hachiman Shrine, one of the biggest shrine in Miyama, is on the east side of Thatched Village. Dedication of Japanese traditional dance is performed on 1/26 (Sat.) and 2/2(Sat.)

Dedication of Japanese traditional dance

A special experience to watch dedication of traditional Japanese dance in the old shrine in the evenings of 1/26 (Sat.) and 2/2 (Sat.)

Illumination starts from 17:00.

Lanterns turned into warm orange colors

Candles inside of snow lanterns are lighted, changing the color of landscape.

Various shape!

Enjoy different shapes of snow lanterns

Stroll around illuminated village

Evening walk in the illumination.

Subtle and profound landscape

The view of the Thatched Village only during the snow lantern festival

On the first day (1/26) and the final day (2/2) of the festival, fireworks will be displayed. From 18:40.

Fireworks in cold winter sky is beautiful

Fireworks in winter, not in summer, is also beautiful.