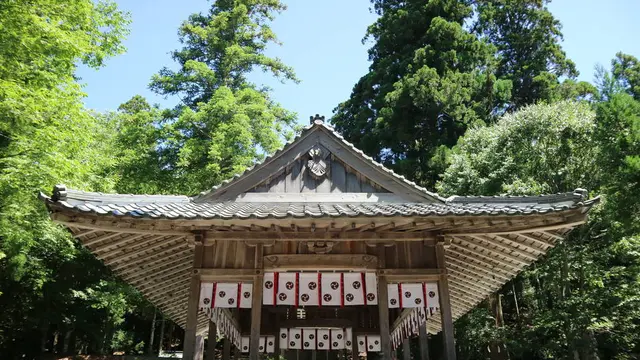 Shrines and temples with millennium of history
京都
一人旅

ドライブ

ウォーキング

サイクリング

自然

散策

芸術

歴史

寺・神社

建築

観光
Shrines and temples with millennium of history
Explore hidden spots in Miyama! Let us introduce shrines and temples with long history that are not touristic spots.
The shrine on the east side of kayabuki-no-sato, Thatched Village. Designated as the Kyoto prefectural heritage site. One of the biggest shrines in Miyama.

Stone pillar showing "Chii Hachiman Shrine"

Find an old stone pillar while strolling around kayabuki no sato, Thatched Village. Let's visit the shrine!!

Walking up stone stairs

The stairs close to the stone pillar is the way for the shrine. Feels like going up to sky!

Red banner showing "Hachiman Shrine"

On the top of stairs, a red banner showing "Hachiman Shrine" come out. You may probably have seen it while strolling around the village.

Torii gate

As locals, why don't you bow before the torii gate to greet gods and walk into the shrine precinct.

Sacred dance hall (maiden)

The place where sacred shinto dancing and ancient court music are performed for shinto rituals.

Main hall (honden)

This gorgeous main hall is designated as Kyoto prefectural cultural property.

Beautiful wood carving

They are carved by the highly skilled carpenter in 18th century.

A shrine in the kayabuki no sato, Thatched Village. You can take a photo of the village from higher place.

Looking up the shrine

Walking up stairs under gates and looking up the shrine.

Sunshine filtering through foliage

Kamakura shrine surrounded by sunshine filtering through foliage. Charming view!

One of the best photogenic spots

Take a photo of the kayabuki-no-sato village from Kamakura shrine!

Tiny shrine in kayabuki-no-sato village, close to the huge tree.

400 yrs old horse chestnuts tree

The huge tree is a horse chestnuts tree of 400 yrs old, designated as Kyoto prefectural cultural property.

Looking up the big tree!

Locals make brown mochi by mixing horse chestnuts powder into sticky mochi rice. You can buy them in souvenir shops in Miyama.

A shrine in Tauta village. A lot of tourists visit here in July every year when the annual festival is held.

Small shrine

Trii gate and the sacred dance hall (maiden) where ceremony is held in the annual parade festival.

Tauta's Yasaka parade festival - an annual parade festival held on July 14

Mythical and folk characters like Tengu (long-nosed goblin), oni (ogres), hyottoko (clown-like man) and others are presented as the procession is made.

Dance and music performances

The dance and music performances by locals to pray for abundant crops.

A temple of buddhism (Jodo Shinshu sect.) It was originally a temple of Shingon sect. but has changed to Jodo Shinshu temple after Rennyo Shonin (*) visited here. (*) a famous priest of Jodo Shinshu sect in 15C

Stone pillar of Kozuiji temple

It is on the right hand of the road on the way for kayabuki-no-sato, Thatched Village, from Fureai Hiroba.

Statue of Rennyo Priest

He visited this area on the way from Hokuriku area back to the capital Kyoto.

Main hall (honden)

Main hall of Kozuiji temple.

The deity of Suwa Shrine is wolf, protecting people to defeat wild boar and deer.

Main gate (Sanmon)

Entrance of Suwa shrine.

Dwarf living in the gate?

You'll find two small wood carved statues sitting on the beams of the main gate.

One of the sacred trees in the precinct of Suwa shrine

Big and tall straight tree.

Main hall (honden)

Beautiful shape.

Shrine dog playing football

It's called Komainu in Japanese meaning Korean dog. Usually two. They are sacred dogs protecting shrines and temples.

Vermillion bridge

A nice photogenic spot!

Visit here in cherry blossom season! The famous Homyoji Temple cherry flowers bloom in later April, a bit later than standard Somei yoshino cherry flowers full bloom.

Homyoji Temple Cherry Blossoms

Lovely fluffy flowers in full bloom is gorgeous! A result of a mutation of mountain cherry trees.

Temple bell

Temple bell of Homyoji temple.

Wind bell in the shape of kayabuki!

Found a unique wind bell inside of the temple house.

It's a Shingon sect Buddhism temple. The only one temple in Japan you can pray to ward off paralysis ("chubu" in Japanese).

Front view

Many pillars in front of the temple. Unfortunately, you cannot go inside of the precinct.

Words from priests written on stone pillars

"Don't get irritated! Smile!!"

Temple gate

It says "only this place in Japan". Yes, only one temple in Japan you can pray for warding off paralysis!

Shingon sect Buddhism temple founded by Gyoki, famous priest in 8th century.

Walk up stone made stairs

A stone pillar showing "Kanrakuji temple".

A short path following stone stairs

Walking in foliage for a few minutes.

Temple gate

Don't miss watching Nio Buddhist statues in both sides of the gate!

Nio guardians in the gate

Only from outside of meshed window, but you can view wrestler-like Nio Buddhist statues made in 13th century!

Temple bell

The temple bell house surrounded by trees.

Main hall (honden)

Main hall of Kanrakuji Temple. Check dragon shape wood carvings under its roof.

Historic shrine located southwest of Miyama. Enshrines Kinashi Karuno Miko, a prince of the Japanese emperor in ancient period.

Sacred dance hall (maiden)

Maiden with red roofs.

Mossy stone stairs

You can feel travel back to a millennium ago.

Main hall

Two red shrine dogs greet you!

Close up shot!

Red shrine dogs. Several "red" things in the precinct of Doso Shrine.

Shrine located in Ohno region (west area of Miyama). Founded in 7th century to enshrine the god of abundant crops.

Crow dengaku - annual ritual performance with 600 yrs history

It takes place on the second Monday of October every year. Designated as the Kyoto Prefectural Intangible Cultural Property.

Music and dancing

Crows are considered to be deities which protect people travelling in the mountains. The performance is an appeal to the crows to watch over and help the villagers working in the mountains.