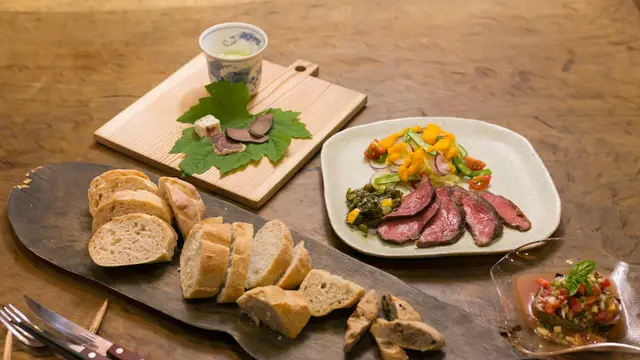 Best lunch spots & cafe in Kyoto Miyama - vol.2
京都
デート

一人旅

ドライブ

ウォーキング

サイクリング

自然

散策

カフェ

グルメ

小旅行

観光
Best lunch spots & cafe in Kyoto Miyama - vol.2
The second series of best cafe and lunch/meal spots in Kyoto Miyama!
Rice and vegetables served are from Tautasya's fields. Their staff also hunt deer and wild boar which are carefully prepared and served fresh in their cafe. <Reservation required> Lunch 11:30-14:30 Dinner 17:00-19:00 Closed on Mon & Tue (+ temporary closing dates)

Special order menu

Try a course menu with their specialties. Need reservation 3 days (or more) in advance!!

Standard menu

They also serve variety of original light meal menus using game meat. For standard menus, make reservation before 14:00 on the previous day.

Cafe inside

It's a log house built by the owner of Tautasya. A time in a relaxing wood atmosphere is an indulgence to make the bustle of daily life a distant memory.

A local restaurant next to the Road Station Fureai Hiroba, loved by locals and repeat tourists. Serving Japanese style curry and pasta, teishoku (set menu) and other casual meal menus. Open: 11:00-19:00 Closed on Mon.

Karaage Bento (boxed meal w/ deep fried chickens)

Most popular menu of Ashiu Restaurant is their juicy & tasty deep fried chicken!

Jingiskan (mutton barbecue)

Restaurant Ashiu's special sauce made Jingiskan, with veggies.

Try fresh coarsely-milled 100% buckwheat noodles prepared every day they open (they are open on Fri, Sat, Sun & Mon)! Sunken hearth and firewood stove inside the restaurant creates nostalgic atmosphere. Open 11:00-15:00 (Mon - Thurs)

Zaru soba (cold buckwheat noodles)

The best way to taste good soba noodles is zaru soba (cold noodles with dipping sauce)!

Entrance

Entrance curtain (noren) shows their name "Moku an".

Inside

Relax and unwind beside the sunken hearth!

If you would like to take a break and enjoy a leisurely meal, this is the place to visit. Enjoy Miyama's fresh seasonal ingredients by beautifully garnished tasty meals in stylish potteries. <Reservation required> Lunch 12:00- Dinner 18:00- Closed in Jan and Feb

Wild game cuisine

Fresh game meats hunted and carefully prepared by the local LLP (Ichimo Dajin) (http://ichimoudajin.com/)

Course menu only

Their course menus (both lunch & dinner) use seasonal fresh ingredients grown, collected and hunted in Miyama. Reservation required for both lunch and dinner.

Entrance

The restaurant is a thatched roof house! Entrance curtain (noren) shows their name "Yururi.

Inside

Gorgeous interior of traditional Japanese house.